Nicki Minaj Reportedly Hasn't Paid Geoffrey Owens That $25K She Promised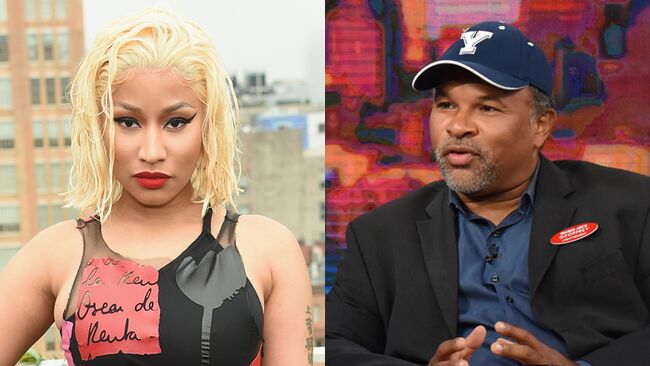 Remember that time Nicki Minaj swore to give Geoffrey Owens $25,000? Well, it supposedly hasn't happened yet.
Last week, the Cosby Show alum became the subject of "job-shaming" when a customer photographed the actor bagging groceries at a local Trader Joe's. The image circulated online not long after, causing Owens to be met with ridicule and embarrassment… so much that he quit the job.
The "Barbie Dreams" rapper was among the many who came to Owens' defense and even extended a handsome offer to the shamed star.
"They took a picture of Geoffrey Owens and put this muthaf***in' man on the muthaf***in' internet while he was f***in' baggin' up some f***in' groceries to feed his muthaf***in' family," she raged on her Queen Radio show. "I personally want to donate on behalf of Queen Radio $25,000 to Geoffrey Owens today. You know why? Let me tell you something. This man is a whole f***in' legend in these streets."
As of Wednesday (September 12), though, sources familiar with the situation told TMZ the "Chun-Li" musician has yet to fulfill that promise — or even contact Owens or his team since.
So how does the 57-year-old feel about it? He could take or leave the offer, apparently. Though a lavish donation, TMZ says Owens isn't looking for any handouts and would probably give the money to charity.
Even so, Owens' financial prospects have seen an uptick since the scandal — he's signed on for a 10-episode run on Tyler Perry's The Haves and the Have Nots and recently secured a spot on NCIS: New Orleans.
In other words, we'll be glad to see Owens back on the screen!
Photo: Getty Images